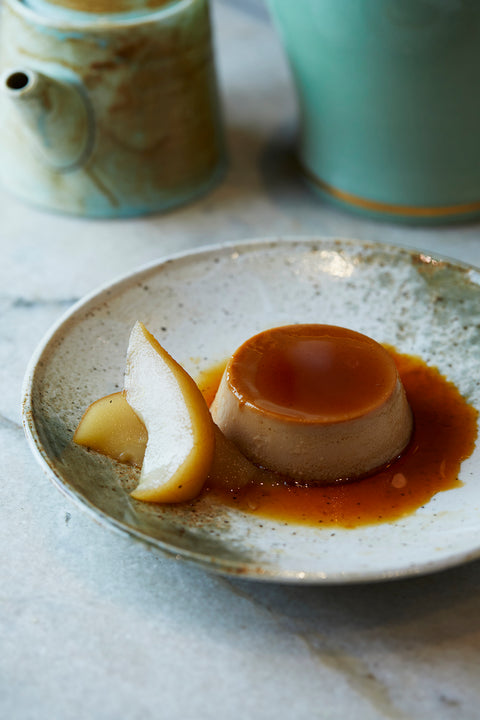 Tiger Purrr Crème Caramel
Tiger Purrr proudly presents a delectable range of recipes curated by the renowned award-winning executive chef of Red Lantern, Mark Jensen. Among his creations is a delightful twist on the classic Creme Caramel, where the aromatic essence of Tiger Purrr chai is skillfully infused, elevating the dessert to new heights of elegance and flavour.
Ingredients
300g castor sugar
50mls cold water
500mls milk
1tb Tiger Purrr
4 large eggs
100g castor sugar
2 drops of vanilla extract
Method 
1. Place 300g castor sugar in a small saucepan with the cold water and place over medium heat. Stir sugar with a metal spoon until dissolved.
2. Allow the sugar to bubble and cook until it reaches a golden syrup colour. Do not stir once sugar has dissolved.
3. Pour the caramel into the moulds. Using tongs to swirl the moulds around so the caramel coats 1 to 2 cm up the side of the mould.
4. Bring the milk and 1tb of Tiger Purrr to the boil
5. Once boiled, steep for 10 minutes then strain the chai from the milk, squeeze to extract flavour
6. Preheat oven to 160C
7. Meanwhile, place eggs in a bowl and whisk together with 100g of castor sugar.
8. Slowly pour and whisk the Tiger Purrr infused milk with the egg mixture
9. Once combined strain through a fine sieve into a pouring jug.
10. Divide the mixture evenly between the 6 moulds
11. Place the moulds into a baking dish. Pour boiling water into the baking dish to come halfway up the sides of the ramekins
12. Bake for 20 mins or until the caramels are just set
13. Remove from the water bath and cool for 15 minutes14. Refrigerate for at least 6 hours or best overnight
To Serve
Run a small sharp knife around the edges of the caramel moulds, give them a gentle shake, turn upside down onto a plate.  Serve with poached pear.
(Serves 6) 
_________
Purchase Tiger Purrr chai
Shop our chef-crafted, mouth tinglingly delicious pure chai.