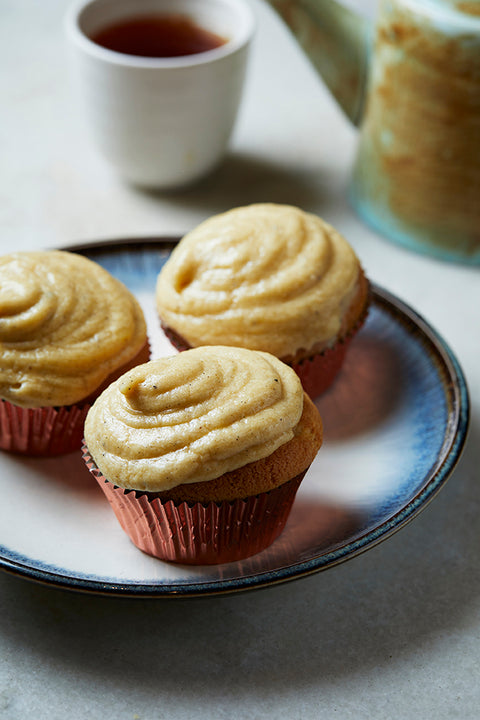 Allspice Cup Cakes with Tiger Purrr Butter Cream
(Makes 12 large cup cakes) 
To make the cup cakes
Ingredients
150g Tiger Purrr butter softened
1tsp vanilla extract
¾tsp allspice
150g castor sugar
2 eggs
250g self raising flour, sifted
90mls milk
Method 
Method
1. Preheat oven to 180c/160C fan forced
2. Line muffin tin with paper cases
3. Using an electric mixer, beat the butter, vanilla, allspice and sugar in a bowl until light and fluffy
4. Add eggs, 1 at a time, beating slowly after each addition (mixture will separate at this stage)
5. Reduce mixer speed and add half the flour, then add half the milk. Repeat with remaining flour and milk until combined
6. Half fill cupcake paper cups with mixture
7. Bake for 15 minutes, check by inserting a skewer into the centre of a cupcake, if mixture is wet when you remove the skewer, continue to bake until done.
8. Remove muffin pan from oven, let stand for 5 minutes then remove cakes to a cooling rack.  
To make the butter cream 
Ingredients 
120g Tiger Purrr butter (recipe below)
225g icing sugar
1tsp vanilla extract
45mls milk
Method
1. Mix butter, icing sugar and vanilla extract together to combine. Add milk and continue to whisk until light and fluffy.
2. Spoon butter cream evenly onto the cupcakes.   
To make the Tiger Purrr butter 
Ingredients 
500g unsalted butter
2tb Tiger Purrr 
Method
1. Add butter and Tiger Purrr to a saucepan and set over low heat.
2. Slowly and Gently melt the butter.
3. Once the butter reaches 40C remove from the heat.
4. Allow the Tiger Purrr Chai to infuse with the butter for 20 minutes.
5. Strain chai from the butter into a container and refrigerate for later use.   
_________
Purchase Tiger Purrr chai
Shop our chef-crafted, mouth tinglingly delicious pure chai.