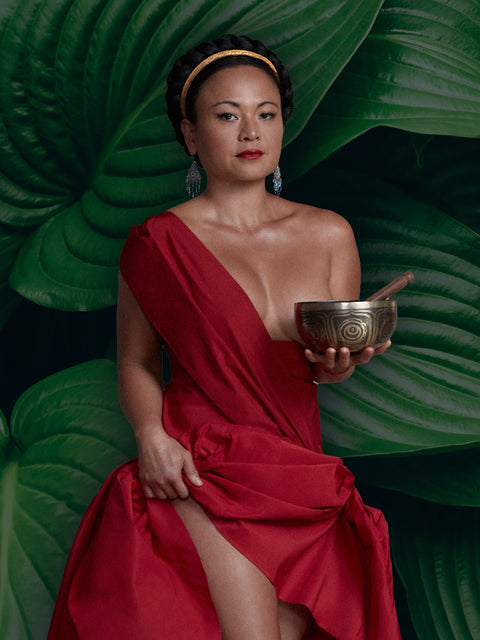 Why we shamanically activate our Tiger Purrr Chai
'You are what you eat' has a deeper spiritual significance for us at Tiger Purrr.
How often do you consider the spiritual dimension when choosing what you consume? Did you know that every item you consume has a certain level of spiritual purity? When you consume spiritually pure items, you imbibe positive energy which in turn benefits your sense of well-being not only in our day to day but also amplifies your spiritual practice. Put simply… You. Feel. Good.
On the other hand, consuming spiritually negative food and drinks can lead to more anger, aggression and other health problems. All food is information to our mind, bodies and spirit. What we consume not only determines our physical well-being, but can also promote or hinder our inner spiritual development.
All traditional eastern teachings of food have roots in Shamanic teachings. Many indigenous cultures had a Shamanic or energetic understanding that what is consumed can elevate or lower our consciousness. Shamans were the medicine men and women of mind, body and spirit in these cultures. Their teachings were incorporated into health and consciousness teachings across Asian countries through Qigong, meditation, healing foods and herbal traditions.
The teachings of these different cultures divided foods into two categories: foods that were grounding and foods that were activating the system. Balancing these two qualities of foods promotes health and elevates consciousness. Shamanic activation of foods assimilates the powerful grounding and strengthening effects on physical, mental and spiritual health. Its purpose - to reconnect us to nature through the quieting and balancing of the mind, body and spirit.
What we consume influences our consciousness. How can it not?
One of the features that sets us apart is that our chai is blessed with focused intention during shamanic ceremony by our founder and Shaman, Pauline Nguyen. This is done to 'wake up' the plant spirits and healing qualities present in the characteristics of our carefully chosen ingredients.
Every batch of Tiger Purrr chai is personally charged through shamanic ceremony to enhance connection to Mother Earth and Father Sun to open a channel to higher levels of consciousness. Shamanically activating the integral ingredients can lead to greater levels of well-being, expanded awareness and elevated consciousness.
The blessing ceremony is important throughout the process from start to finish and we do not rush it. Our relationship to the spirits has integrity and we carry this into every step of creating Tiger Purrr.
Although what we consume is not the only way to influence consciousness, it is foundational. Shamanic cultures understood this fundamental idea that what we consume has a spiritual and energetic effect on the body, mind and spirit. Becoming aware of this fact and working with it consciously is the foundation of spiritual nutrition. It is the root of wellness and well-being. You are what we eat. And also, what you sip.
From the first whiff to the final drop of Tiger Purrr, consider yourself activated.