Feeling burnt out, disillusioned and uninspired with your life?
Want more energy, better health, more money, more success?
Spend 1 hour online with one of the world's most impactful speakers, developmental coaches and entrepreneurs – Pauline Nguyen – as she unpacks the secrets of Self Leadership and Self Mastery to design the life of your dreams.
Combining science and spirituality, Pauline teaches others how to live an inspired life, marrying material success with deep fulfilment and a great sense of play.
Activation with Purrr
About the event
-
An online event to empower your self-transformation through an inspiring discourse, unique energy activation and healing meditation.
✰✰
Upon enrolment, each attendee will be delivered a box set of delicious Tiger Purrr Chai to enhance your focus and tickle your tastebuds throughout the activation experience.
-
This experience includes
✰ 1 HOUR DISCOURSE BY PAULINE NGUYEN ✰
International speaker, developmental coach, Telstra Award winning business owner
✰ ENERGY ACTIVATION AND HEALING MEDITATION ✰
✰ 1 BOX OF DELICIOUS TIGER PURRR CHAI ✰
A 1:1 session with Pauline Nguyen would usually cost
$2700
But for this special event, Pauline wants to help as many people as she can, so you only pay for the cost of tea + shipping.
$45
Who's it for?
Conscious human beings looking for...
✰✰ Increased well-being ✰✰
✰✰ Calm courage ✰✰
✰✰ Sharper focus ✰✰
✰✰ More vitality ✰✰
✰✰ Greater self love and joy ✰✰
✰✰ Meaningful success in business ✰✰
✰✰ Amplified purpose in life ✰✰
✰✰ Inner peace and serenity ✰✰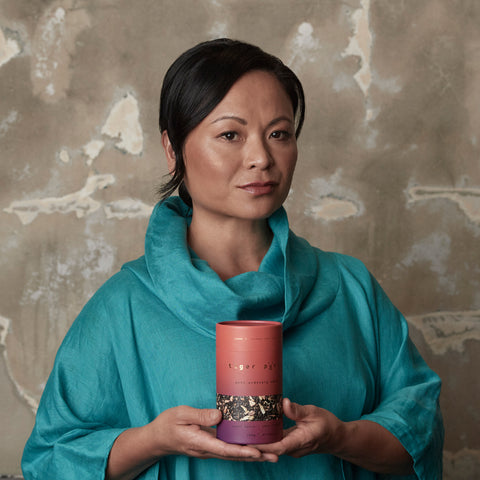 About your host
PAULINE NGUYEN
Pauline Nguyen is a best-selling author and award-winning businesswoman – and her achievements are all the more impressive for her having escaped Vietnam on a boat and survived a Thai refugee camp. She has overcome these adverse beginnings to transform her approach to success by re-engineering her beliefs, questioning the status quo and hacking cultural norms to become one of Australia's most successful entrepreneurs.
As the owner of Red Lantern the most awarded Vietnamese restaurant in the world, in 2012 Pauline won the Australian Telstra Business Award for Medium Business. However, that is only the tip of the iceberg when it comes to Pauline's achievements; her memoir, Secrets of the Red Lantern, has been critically acclaimed around the world and appeared in numerous bestseller lists. She holds a BA in Communications from the University of Technology, Sydney, and in 2008 won Newcomer Writer of the Year at the Australian Book Industry Awards.
Pauline has achieved outstanding success as an entrepreneur, author, businesswoman and acclaimed speaker with the unique ability to connect with her audience in a profound way, empowering them to change their story for a better future.
Pauline is an original 'Rare Bird' – one of Australia's top 50 influential female entrepreneurs – and is included in Blackwell and Hobday's global recognition of 200 Women Who Will Change the Way You See the World.
What people are saying
★★★★★
Dianne Driscoll
Founder - The Happy Path | Keynote speaker | Podcaster | Coach
"Working with Pauline has catapulted me forward at accelerated pace. Her challenging and thought-provoking perspectives have helped me reframe how I see myself and specifically how I identify with mental illness.
I no longer consider myself to have anxiety or depression, I no longer need anti-depressant and anti-anxiety medication and I haven't felt the need to go to my psychologist for over a year.
These changes are only the tip of the iceberg as working with Pauline brings change beyond measure.
Pauline's sessions are always masterfully crafted for the specific needs of the group. And while impossible to explain, her shamanic activations both deepen and amplify the work done at a subconscious level.
I cannot recommend working with Pauline highly enough, it is something that needs to be experienced to be understood."
★★★★★
Jayne Halikiotis
Property Manager
"Working with Pauline has not only changed my life, but saved my life. Pauline is a master alchemist. Her carefully curated shamanic activations have taken me to the quantum field to awaken, heal on a cellular level, and reclaim my authentic self. Layer by layer, her Shamanism has healed me, ignited my inner power and is assisting me to open my heart and mind to new levels that I never knew were possible. Her shamanic gifts have no limits and her power is never to be underestimated, to be in her presence is an honour and privilege."
★★★★★
Peter Williams
CEO & Founder - The New Paradigm Institute
"Pauline Nguyen is truly one of a kind when it comes to combining so many of the powerful understandings of spirituality and entrepreneurship. Her unique expression
is absolutely world class with her ability to deliver such potent and powerful life changing transformations. This
is what Pauline does, as she is a catalyst for exponential transformation, opening doors to a whole way of life that you didn't believe was possible. Pauline continues to excel beyond what I imagine is possible for value, impact and transformation."
★★★★★
Christine Dvoracek
Founder - Transform Communications
"To experience a Shamanic Activation with Pauline is to receive a great gift, a lifechanging gift.
Pauline activates what is already there deep inside, and she does so from a place of love. At the end of her activations, I come back feeling completely calm, deeply energized, joyful and clear on what I changes I need to make and what actions I need to take. Pauline is a modern day mystic, skilled at blending ancient wisdom with modern day science. If you have the chance to experience an activation with Pauline, take it. And then watch your life change – for the better."