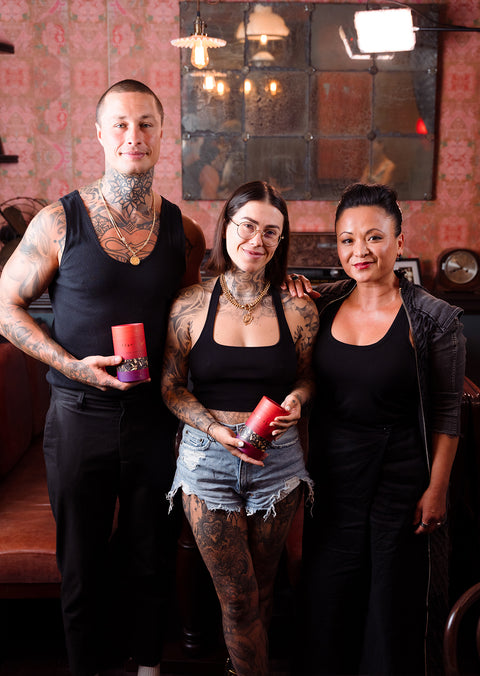 Couples that Purrr Together – with Charlie Lund & Josh Marx
Tiger Purrr Chai Lovers:
Charlie Lund & Josh Marx
Where do you live?
We both live at Bondi Beach. Both growing up in the East our lives have been blessed by the ocean and sun all year round. We both grew up with our mums, encouraging us always to be at the beach and out in nature. Grateful for their projection into a healthy way of life we have always shared a sacred connection with the sea. We will never leave! 
How did you meet?
We met one another for the first time at a party... however later reconnected by chance when Josh walked into my old work place... we have been inseparable ever since. We are both sure that my grandmother (Charlie's) had some contribution in divine guidance to the love story.
What do you do?
Josh @mir_ruh
Charlie @whos__charlie
Our website is: https://pranatattoo.com
We are both full time tattoo artists who have our own private, exclusive tattoo parlour in Sydney; we specialise in difference styles and share the love for art, creation and the artistic process.
Josh: I specifically established my signature style of detailed ornamental work, focused on mesmerising symmetry and intricacy. My tattoo style is reflective of my art practice, making the transition from canvas to skin.
Charlie: I have an illustrative black and grey tattoo style and like to focus on portraiture and realistic references. I specifically draw close focus on my flow and detail for connecting pieces, such as my illustrations, interlocking concepts and ensuring my large scale pieces cover all over peoples bodies. I like to tell a story and translate special meaning for my clients.
What do you love most about each other?
We both love each others deep passion for art, specifically tattooing and drawing/painting. We love that we both have evolved so much over the years and have supported and changed in such individual ways through the whole process, falling even more in love.
We most love the other person for always trying to be the best version of themselves .... and loving each other enough that it has even grown the love we have for our individual selves in the process.
What do you love about Tiger Purrr chai?
We love the clean aromatic taste and crisp clarity we receive after drinking Tiger Purrr. No shakes or anxious energy. A perfect blend of focus and calm.
How do you like to drink Tiger Purrr chai?
We love to drink our Tiger Purrr chai straight, steeped in filtered water, a splash of almond milk with a touch of honey. We loved it so much that we had to gift one to each of our Mummas and also my Aunty (Charlie's), so they could enjoy the beautiful after effects and taste of Tiger Purrr (and they all bloody loved it!)
What inspires you both?
We are challenged by requests from the people that get to be tattooed by us . They inspire us to always step up and grow and learn more with our craft and ourselves. Spending time in the ocean and in nature. Reflecting on our lives to see where we have grown and received lessons. Grateful for our mothers to have guided us with positive beliefs in ourselves and what is true to us with our art process. 
What inspires you about each other?
Josh: I'm inspired by Charlie to be the best version of myself in every way, including my mental and physical health as well as always growing and learning with my craft and art process. I'm inspired when travelling and seeing other art creators, tapestries, native crafts and arts. I love looking into the history of other cultures. I love to find what inspires them. I'm always searching to find my truest translation of my craft.
Charlie: I am always inspired by Josh to be the best version of myself. To wear my flaws and faults and grow from them. To be true to myself and honest in my art process and look and learn from those before me as well. Ancient buildings. Old frescos and European sculptures in marble and stone have always evoked a deep spark of inspiration and passion.
What do you both do together to keep your spirits high?
Being in the sun nature and ocean always keeps our energy high. Exercising, practicing positive thinking, saunas and eating nourishing food keep us on a great level. As well as connecting with family and friends. Surfing is something that is recharging for us energetically. 
What's your dream for the future?
Our dreams for the future is to forever continue to learn and hone in on our craft. To travel and tattoo in different places in the world whilst meeting more amazing artists. We both also share the dream of helping to support people to surrender and look within, to challenge with greater questions and notions of society, life and the world. There is more than what is purely placed in front of us... but you'll never know if you don't search.  
Want to try Tiger Purrr chai?
Shop our chef-crafted, mouth tinglingly delicious pure chai.