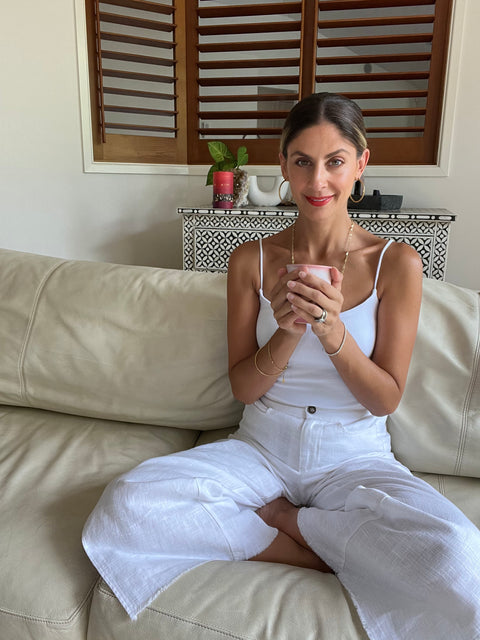 Chai Lovers of the World – with Maritza Barone
Tiger Purrr Chai Lover:
Maritza Barone
Where do you live?
Chasing the sun on the Sunshine Coast, QLD, Australia - since December 2021. Before that I was chasing the sun in Fiji for a year. But originally a Melbourne girl born and bred (hence why now I am chasing the sun!)
What do you do?
I share my voice, so that others can share theirs. As a podcaster, producer, speaker with two decades of experience in Media and Production, my passion is to elevate voices who are pushing humanity forward.
My podcast, Things You Can't Un-Hear features change makers who are paving the way to a brighter future, and I am also the founder of Guide Your Light Network, which promotes podcasts and voices with purpose.
I am also a mum, daughter, partner, friend, optimist, not so great dancer and tea lover.
What do you love about Tiger Purrr chai?
People who know me well would tell you I am a passionate tea enthusiast with a touch of snobbery around her chai choices (sweetened powdered chai offends my soul) :-)
As someone who has not drank coffee for over 20 years, chai has successfully become a much improved replacement.
I no longer suggest a catch up for a coffee, it is always a catch up for a chai.
For this tea snob, Tiger Purrr is very much at the top of the chai chain and it has given me the opportunity to also make quality chai at home. When you open the container, the intense sweet and spicy smell of it speaks for itself.
How do you like to drink Tiger Purrr chai?
I've been enjoying it brewed in warmed oat milk, but as I live in a warmer climate it's been refreshing to drink it chilled over ice as well.
My chai time is like a ceremony for me to sit and unwind and quietly savour the goodness in my cup. Almost like a little meditation.
What's your purpose in this world?
My purpose is to share my voice in a way that allows others the confidence and platform to also share theirs. To allow people to be seen and heard in a way they have never been seen and heard before. 
These words and my mission have taken until my early 40's to truly understand and embody. It is freeing to know and understand your personal purpose in this world, and I am grateful I gave myself the time and energy it took to articulate it and work on it in this way.
What inspires you?
People who create change in their lives to consciously create a happier existence for themselves.
What do you do to keep your vibration high?
I get my energy from people so I choose carefully who I surround myself with. I ensure that my vibration is kept high by the conversations I am having, moving my body, walking barefoot, staring at the ocean, being still and eating amazing food.
What's your dream for the future?
My dream for the future is what I am living now. Chasing the sun, sharing my voice with purpose & impact and loving my friends & family the best way I can.
Want to try Tiger Purrr chai?
Shop our chef-crafted, mouth tinglingly delicious pure chai.