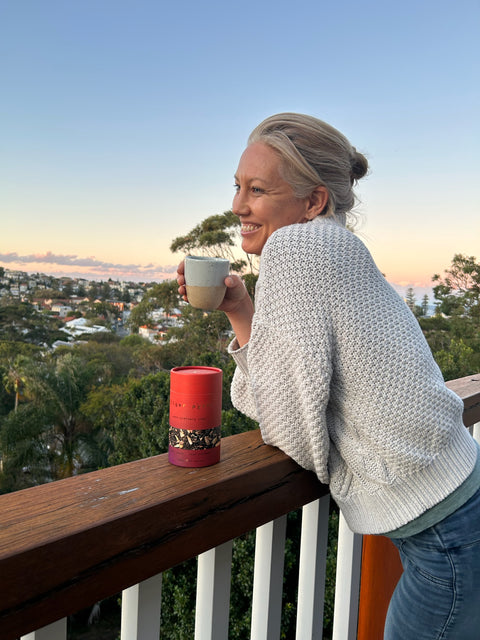 Chai Lovers of the World – with Alysia James
When it comes to chai, we've discovered a vibrant and passionate chai subculture that's anything but underground. This community is made up of countless individuals who share an authentic love for chai. Our goal is to connect with these chai enthusiasts around the world, and today, we're thrilled to introduce you to one of them: the wonderful Alysia James.
Tiger Purrr Chai Lover:
Alysia James
Where do you live?
Manly (in Sydney's beautiful northern beaches) 
What do you do?
I help people find connection to either their purpose (unofficially as a mum, friend & colleague) or a collective organisational purpose (officially as a strategic business consultant).
What do you love about Tiger Purrr chai?
For me, it's the ritual of Tiger Purr that allows me to slow down and take a moment to reconnect with myself.  And the delicious flavours & aromas nurture me. The whole experience is like being wrapped in a warm blanket. 
How do you like to drink Tiger Purrr chai?
Brewing the chai in warmed oat milk is my favourite as it makes for a richer flavour, but I also enjoy brewing the chai spices in a teapot with hot water and a splash of oat milk. 
What's your purpose in this world?
Honestly, I'm not 100% sure yet but intuitively I think I'm here to help people connect (to themselves & others) in a way that provides improved health & happiness – and it starts with creating 'connected' businesses in which people spend so much time & energy.    
What inspires you?
People who live with purpose and who are graceful about it. My kids inspire me every day in how they approach the world; how curious their minds are and how kind they are. And nature inspires me so much – there is beauty everywhere around us, every single day.    
What do you do to keep your vibration high?
I am slowly realising that to maintain a higher vibration I need to slow right down – I need to hold the space to rest & recharge (that is pretty new for me). I am also learning that I need to fiercely protect my boundaries and live in line with my values (…and not anyone else's). 
What's your dream for the future?
For more communities of happier & healthier people who are connected to themselves and each other in a beautifully balanced way.   
______
Want to try Tiger Purrr chai?
Shop our chef-crafted, mouth tinglingly delicious pure chai.